You probably already know what a UTM tag is, but let me still write it down. A UTM tag is a simple parameter that you can add to a URL in order to track a source, medium, and campaign name. This allows Google Analytics to let you know where your traffic is coming from, and what campaign brought them to you.
Now, instead of adding the UTM tracking code for your campaign in Google Ads, a more efficient way to track is to just enable the auto-tagging set up. Google auto-tagging is an excellent way to pass the complete information from Google Ads into Analytics. This information is automatically appended to Analytics and is available instantly.
Note: For reliable tracking, you need to track either using the UTM code or with Auto-tagging. There is a high chance that the data will have a glitch in reporting if the two are used together.
Before we dive right into setting up Auto-tagging in Google Ads, I'll give you a minute to make sure that your Google Analytics and Google Ads (Adwords) accounts are linked.
Don't sweat it if they aren't though! Just follow the nifty little guide below, and we're good to go. (If you already have the accounts linked, however, feel free to skip this part)
Set-up Part 1: How to link Google Ads with Google Analytics – A quick walkthrough
Google Adwords, as you probably already know, is an advertising machine that separates your text and display advertisements into two systems: the Search Network and the Display Network.
Content promotions appear alongside the search results when the keywords you entered match what people are searching for. Display ads show up on websites that are a piece of the Display Network.
Step 1: Click on the Tool icon on the top right bar in Google Ads
Step 2: Head over to the Linked accounts tab on the selection menu
Step 3: Select Google Analytics by clicking on the 'details' button
Step 4: Hit the Link action to link the Google Ads account
Step 5: You can link multiple views but only one site metric is allowed to import data from Google Analytics
Step 6: On the Google Ads account, hit the Settings tab in the left-hand panel.
Under the Account Settings tab, select the Auto-tagging option and click the checkbox to enable automatic tracking of all AdWords URLs.
Set-up Part 2: How to link Google Analytics with Google Ads account – step-by-step
To connect your Google Analytics account to Google Ads, first, ensure that the two accounts use the same email address so they can be linked correctly. Additionally, ensure that you're an administrator on both accounts so you can make the necessary changes.
Step 1: Click on the Admin section on the left corner of the GA navigation bar
Step 2: Inside the property section, click on Google Ads Linking
Click "New Link Group"
Step 3: Select the Google Ads Account that you linked earlier to Google Analytics.
Step 4: After selecting the Google ads account, Add the link title. It can be your company's Google Ads account.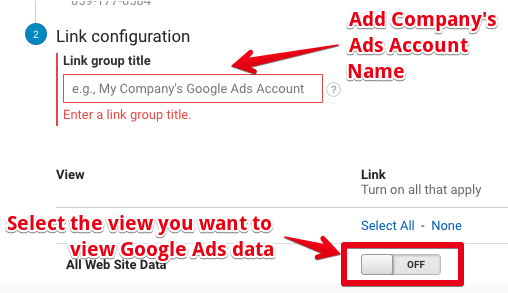 And that's all it takes!